| | |
| --- | --- |
| | " My whole life was very nomadic : moving from one country to another and even changing continents. Spontaneously I was exposed to different cultures. By doing that, my life became richer and it reflected in my work." |
Prior to the opening of the Venice Biennale 2017,
Will be inaugurated the exhibition and presentation of the video:
MARCO POLO ON THE SILK ROAD
LILYA
Pavlovic-Dear
Monday May 8th, from 10 a.m. – 5:30 p.m.
Unesco in Venice - Palazzo Zorzi
Salizada Zorzi 4930, Castello, 30122 Venezia, Italy
The same event will be presented as well in the:
Library of Congress, Washington D.C.
on September 28th 2017
Paris based artist, Lilya Pavlovic Dear, examines the past and connects it to the present globalization, as well as the process of multiple influences between east and west. The video is built as a collage of actual landscapes through which the Silk Road is passing and paintings and photographs and historical documents are overlapping those landscapes. The video is accompanied by music of various countries.
"In 1992, when it was celebrated 600 years of Columbus's discovery of America, I searched for a manuscript which inspired him to find a faster sea route to the East. I came upon the 13th century manuscript, "The Book of Wonders" or "Le Livres des Merveilles" (original title). I have always admired Persian miniatures, Buddha sculptures, delicate Chinese ink drawings, and Celadon porcelain. All those elements like pieces of a puzzle fell into place and made a base for the inspiration to create 50 of my art works, which trace chronologically through paintings, drawings and prints the Voyage of Marco Polo on the Silk Road."
Lilya Pavlovic Dear, artist
"Nothing is more moving then to recognize the components of the identity of this artist thought the conquest of a painting where figuration, narration and organic forms co-exist in a very personal image, sumptuous, quite Oriental and modern. Marco Polo is she herself, the artist in person, today's explorer who after pilgrimages to the land of dreams, comes back to become the symbol of the meeting of two worlds, very different, but reconciled thanks to the magic of art."
Eurydice Trichon-Milsani, art-critic affiliated to MNAM of the Georges Pompidou Center, Paris
About the artist
Lilya is an internationally recognized artist who has worked on this theme since 1994. She has had solo shows on the theme of the Silk Road in Washington D.C., New York, Paris, Hamburg, Avignon and Xi'an. Her book Marco Polo on the Silk Road received the Grand Prix Botticelli from the Society of French Poets in 2008. She has had more than 60 solo shows and 200 group shows. Her art works are in numerous public and private collections:
Los Angeles County Museum of Art, Los Angeles; Bibliothèque Nationale de France, Paris; Historical Museum, Belgrade; Museum of Applied Arts, Belgrade; Musée Neue Galerie, Graz; National Museum of Kraljevo, Kraljevo; Marciana Library, Venice; British Library, London; New York Public Library, New York; Art Bank, Washington DC; American Embassies Permanent Collection, Washington DC; Office of the Chief Financial Officer Economic Development, Washington D.C.; Fondation Paul Ricard, Ile de Bendor (France); Albert and Victoria Museum, London; Shaanxi Provincial Art Museum, Xi'an, China.
About Aktinos Gallery
Aktinos Gallery is a non-profit organization, which focuses on paintings, sculptures, installations and new media. Here are some of the places where it has has organized shows: Querini Stampalia Venice during the Biennale of Venice, Red Dot Art faire Miami during Miami Basel, American University Paris, etc.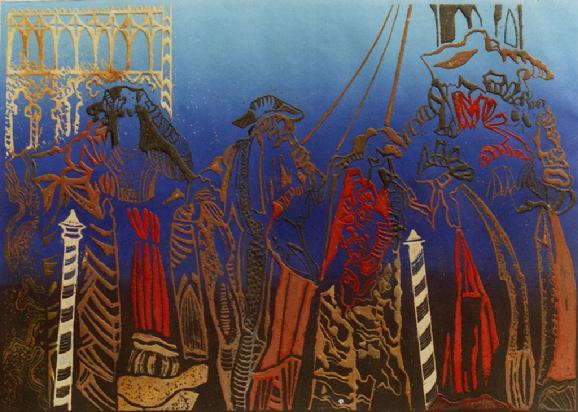 Marco Polo in Venice
Map of the Silk Road
Boat
Marco Polo in China
View of the exhibition 2015
Art critics on LILYA's work
" These

prints entice the viewer to decipher their mysterious, iconic forms, which glow with luminous color juxtapositions and are so deeply etched they approach sculpture. While these exquisite, visionary images can simply be enjoyed for themselves, I also foresee that they will be models of experimental printmaking for those

artist and art students who frequently visit the Print Collection ; Lilya is a master of intaglio process and her skill at color printing is exceptional. I am looking forward to watching artist and students study-and marvel- at those prints "
Roberta Waddel
Curator of prints
The New York Public Library
ffezfezfez
" I think Lilya is a wonderful artist "
Louise Bourgeois
Sculptress
dsadadaz
" Cette artiste évolue dans l'authenticité et sous toutes ses formes de créativité avec une grande maîtrise et une subtile délicatesse. Cette œuvre diffuse une musique d'âme qui souhaitons le puisse aller jusqu'à réinventer des signes d'amour, des alliances divines et déposer sur vous des rêves en suspension… "
Michel Benard
Lauréat de L'Académie Française
Lilya
- © All rights reserved 2016